MMC ASA All Regions v1.8.0.0 Multilingual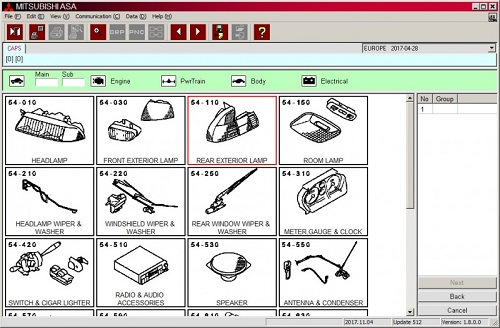 MMC ASA All Regions v1.8.0.0 Multilingual | 1.41 GB | Language: Multilanguage
Mitsubishi ASA spare parts catalogs for cars in Europe, Asia, North America and Japan. Contains complete information on spare parts and additional equipment for cars and jeeps. In the catalog of auto parts there is a search by VIN, model, number, name and applicability of the part.
All parts use shell version 1.8.0.0.
Works correctly on operating systems from Windows XP to Windows 10 64-bit.
Installation : The directories are compiled in the form of installers – self-extracting RAR archives.
We just run the exe file, specify a different installation path if desired, and wait until the unpacking is completed.
To install on Windows 7 and Windows 10, the exe file must be run as administrator (even if you have local administrator rights).
After installation, a shortcut "Mitsubish ASA (region)" will appear on the desktop. Launch by clicking on the shortcut.
The installer will copy the ASAMAIN.ini file to the C: \ Windows folder. This needs to be checked. If the user does not have the necessary rights in the system, copying will not occur. You will need to do this manually (the ASAMAIN.ini file will be located in the folder into which the ASA was unpacked).
If during installation you changed the path to the program directory, in the C: \ Windows \ ASAMAIN.ini file, you must correct all the paths to the correct ones.
Updated 10.04.2020:
1. [M00] Mitsubishi ASA Japan, update 739 (2020-04-03)
2. [M50] Mitsubishi ASA North America, update 635 (2020-04-03)
3. [M60] Mitsubishi ASA Europe, update 654 (2020-03-27)
4. [M80] Mitsubishi ASA General Export, update 619 (2020-04-03)
Updated 21.07.2020:
1. [M00] Mitsubishi ASA Japan, update 753 (2020-07-17)
2. [M50] Mitsubishi ASA North America, update 648 (2020-07-10)
3. [M60] Mitsubishi ASA Europe, update 669 (2020-07-17)
4. [M80] Mitsubishi ASA General Export, update 632 (2020-07-10)
Updated 17.11.2020:
1. [M00] Mitsubishi ASA Japan, update 768 (2020-11-06)
2. [M50] Mitsubishi ASA North America, update 664 (2020-11-06)
3. [M60] Mitsubishi ASA Europe, update 684 (2020-11-06)
4. [M80] Mitsubishi ASA General Export, update 648 (2020-11-06)
Updated 20.12.2021:
1. [M00] Mitsubishi ASA Japan, update 812 (2021-10-08)
2. [M50] Mitsubishi ASA North America, update 708 (2021-10-08)
3. [M60] Mitsubishi ASA Europe, update 728 (2021-10-08)
4. [M80] Mitsubishi ASA General Export, update 692 (2021-10-08)
Year / Release Date : October 2021
Version :
Shell – 1.8.0.0
[M00] Mitsubishi ASA Japan , update 812 (2021-10-08)
[M50] Mitsubishi ASA North America , update 708 (2021-10-08)
[M60] Mitsubishi ASA Europe , update 728 (2021-10-08)
[M80] Mitsubishi ASA General Export , update 692 (2021-10-08)
Developer : LexCom
Interface language : Multilingual (no Russian)
Tabletka : cured

DOWNLOAD LINKS:
https://k2s.cc/file/1e5ce492a6245
https://k2s.cc/file/fe9e569da1967
https://rapidgator.net/file/fc0859f5dc1fb61ab01c859f0c72df51/MMC_ASA_All_Regions_v1.8.0.0_Multilingual.part1.rar
https://rapidgator.net/file/e2b9dd65422ac60ef3bf750284d236a3/MMC_ASA_All_Regions_v1.8.0.0_Multilingual.part2.rar
https://nitro.download/view/5715E96889110FC/MMC_ASA_All_Regions_v1.8.0.0_Multilingual.part1.rar
https://nitro.download/view/19ED8F511B8DFAC/MMC_ASA_All_Regions_v1.8.0.0_Multilingual.part2.rar
https://uploadgig.com/file/download/06CCa3fa468bc259/MMC_ASA_All_Regions_v1.8.0.0_Multilingual.part1.rar
https://uploadgig.com/file/download/2580979e0B0e7185/MMC_ASA_All_Regions_v1.8.0.0_Multilingual.part2.rar