ETKA v8.1.0.4 (01.2022) Multilingual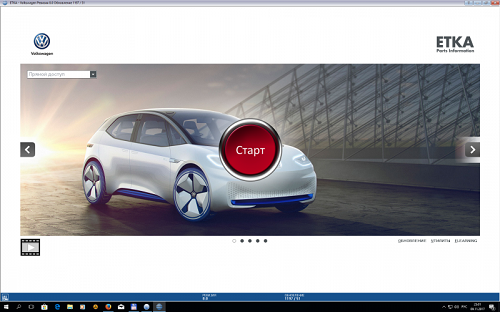 ETKA v8.1.0.4 (01.2022) Multilingual | 5.87 GB | Language: Multilanguage
ETKA electronic catalog contains complete information about spare parts and accessories for VAG cars (VW, Seat, Skoda, AUDI), including minibuses.
Add. Information : The assembly was done for familiarization with the capabilities of the ETKA program by the clients of RVV-AUTO and is not suitable for commercial use. To do this, use the official program for the selection of spare parts ETOS https://www.etosinfo.com or website https://www.partslink24.com
It is installed on x64.
Pre-installed updates: VW / AU – 1432, SK – 964, SE – 958.
In the distribution instructions for installation, read carefully.
Updating prices and databases for ETKA, breaking through guilt from the disk from the FGST folder, as well as through a paid online service is done using the algeni bootloader launched from the shortcut. In the ETKA Loader folder, the start menu contains instructions on how to configure it.
In the full version of the loader, extended graphical capabilities and editing the base with wines are available, and Etka 8.2 will also be available after its release.
The version is configured on the C drive, if you put on another drive, then you must use the INI files from the acc. folders for your drive.
Ability to install on drive C :, D :, E: and F:
Regional settings and price list for Russia have been set, they can be changed to any other using the bootloader.
To reduce the size of the distribution and installation time, the backup folders Prog2 and DATA2 have been deleted, they will appear during the update, as well as the ETKA \ VWAU \ Prog \ Pakete82 \ folder with the new version 8.2, the release with it will be released separately due to the new and incompatible the old folder structure.
The distribution has the ability to install a local database of guilty.
8.1 does not work on Windows XP
For help in the release, for the bootloader and for the ability to install updates to 8.1, many thanks to algeni
For the English translation, thanks to kbatpo
For the constant replenishment of the database, thanks to tosha2042 , eliaua , mau-rus , bookini , StasLSV , FAN_tom , glavanesti and luppyy
For the license to Multikey thanks site http://testprotect.com
For the Digital Signature Cartoon for Windows x64 thanks to mau-rus
Unfortunately, because of some woodpeckers, the brain of this algeni project came out of it and the development ended there and is not expected. How long it will be possible to use this version is unknown, with the slightest changes on the part of Lekscom we will remain at a broken trough, well, or almost broken.
What News?
Updated Etka, prices, hardlock.
Homepage: http://www.lexcom.de
DOWNLOAD LINKS:
https://k2s.cc/file/ff09a7a9d3229
https://k2s.cc/file/9701266f623ae
https://k2s.cc/file/dc12de5af01dd
https://k2s.cc/file/2b1f9f79ab55e
https://k2s.cc/file/9c7db629d4fa9
https://k2s.cc/file/567bf5ef61182
https://rapidgator.net/file/ce75b670a9d3ebd3cf6ea3f957e1d3fb/ETKA_v8.1.0.4_01.2022_Multilingual.part1.rar
https://rapidgator.net/file/0702dc4eff58f73e810c01455b152b26/ETKA_v8.1.0.4_01.2022_Multilingual.part2.rar
https://rapidgator.net/file/f90873402496d62070395949ae87e4e5/ETKA_v8.1.0.4_01.2022_Multilingual.part3.rar
https://rapidgator.net/file/6650c46b562f0bd3fc344d28869dad0b/ETKA_v8.1.0.4_01.2022_Multilingual.part4.rar
https://rapidgator.net/file/b18a98e55cc70cd6c3b7e29ced5930f3/ETKA_v8.1.0.4_01.2022_Multilingual.part5.rar
https://rapidgator.net/file/086327ca33e322701936f32953977b68/ETKA_v8.1.0.4_01.2022_Multilingual.part6.rar
https://nitro.download/view/8E4A8F836A3A02F/ETKA_v8.1.0.4_01.2022_Multilingual.part1.rar
https://nitro.download/view/79279C4D231A0D6/ETKA_v8.1.0.4_01.2022_Multilingual.part2.rar
https://nitro.download/view/5FDAC08DB2ED3CE/ETKA_v8.1.0.4_01.2022_Multilingual.part3.rar
https://nitro.download/view/76FA2D2CEA1BCD0/ETKA_v8.1.0.4_01.2022_Multilingual.part4.rar
https://nitro.download/view/E6CF9EA78340C7F/ETKA_v8.1.0.4_01.2022_Multilingual.part5.rar
https://nitro.download/view/3CFCB7BF8EA34A7/ETKA_v8.1.0.4_01.2022_Multilingual.part6.rar
https://uploadgig.com/file/download/d64990a6Bfd42035/ETKA_v8.1.0.4_01.2022_Multilingual.part1.rar
https://uploadgig.com/file/download/bFD601cf8Aceafef/ETKA_v8.1.0.4_01.2022_Multilingual.part2.rar
https://uploadgig.com/file/download/20B45eCa7C0bd0cb/ETKA_v8.1.0.4_01.2022_Multilingual.part3.rar
https://uploadgig.com/file/download/08D9b45d661065De/ETKA_v8.1.0.4_01.2022_Multilingual.part4.rar
https://uploadgig.com/file/download/83Fdc49251059461/ETKA_v8.1.0.4_01.2022_Multilingual.part5.rar
https://uploadgig.com/file/download/e0a13eD6983cf947/ETKA_v8.1.0.4_01.2022_Multilingual.part6.rar