ELSA v6.0 AUDI (03.2017) Multilingual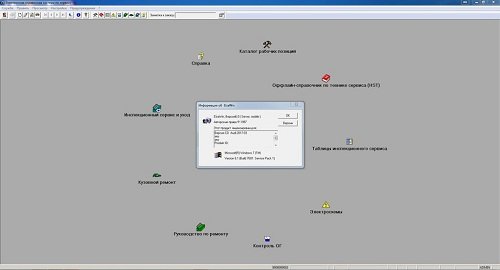 ELSA v6.0 AUDI (03.2017) Multilingual | 7.82 GB | Language: Multilanguage
Information base (manual) for the repair of vehicles of the concern VW AG. It contains descriptions of the technology of repair and maintenance of the car, electrical circuits, bodywork, time norms for work performed, etc.This program is not designed to work with diagnostic adapters.
A more detailed description can be found in the accompanying documentation (ElsaWin_Application.pdf)
Extras. Information: This distribution contains all necessary components for installation: 4.0 setup, 4.10 update, 5.0 update, 5.1 update, 5.2 update, 5.3 update, 6.0 update, AUDI base 03.2017, serial numbers, key generator and installation instructions. All components are in an easy to install and do not require additional programs.
Installation order:
In the distribution there is a set of installation files for installing ElsaWin 4.0 and all its subsequent updates to version 6.0 (directories with numbering from 1 to 7).
Also in the distribution is added the full version of the installer ElsaWin 6.0 (catalog number 8).
The main requirement before starting the installation of ElsaWin version 4.0 is the presence of Adobe Reader installed in the system. The minimum version is 5 or newer.
The order of installation is simple:
1. Install setup 4.0 and, if desired, all subsequent updates to 6.0 (optional), or install immediately setup 6.0.
2. Install the database.
IMPORTANT!
The AUDI base 03.2017 is compatible with the versions ElsaWin 4.x – 6.x.
The database compatibility control files for versions 4.x – 5.x (control # XX.xml) were created manually, and were not present in the original set of installation files.
Also, you need to install SVGView.exe – it is needed to display the wiring diagrams.
Login name / password: admin / admin
Detailed instructions for installing ElsaWin 4.0 and 4.1 from say2108 – in the Documentacia directory
Year / Release Date: 2017
Version: 03
System requirements: Windows NT4.0 / 2000 / Xp Pro / 2003/7/2008
Support for 64-bit systems: Present
Language: Multilingual (Russian is present)
Tabletka: Present
DOWNLOAD LINKS:
https://k2s.cc/file/7991a7984a3a7
https://k2s.cc/file/04f143d05cd59
https://k2s.cc/file/648e45df64b3e
https://k2s.cc/file/94a27e4725807
https://k2s.cc/file/8dbfe07bf6639
https://k2s.cc/file/d91fdd157ac65
https://k2s.cc/file/cf0735e03dbf4
https://k2s.cc/file/f6c2a03d29bb7
https://rapidgator.net/file/e70d41a2297223a36a73e4186c3af223/ELSA_v6.0_AUDI_03.2017_Multilingual.part1.rar
https://rapidgator.net/file/b6802525834b32ac2f9972ef5b9e36de/ELSA_v6.0_AUDI_03.2017_Multilingual.part2.rar
https://rapidgator.net/file/5c0c7f9fb6d9cc60c80e29c3cf35d883/ELSA_v6.0_AUDI_03.2017_Multilingual.part3.rar
https://rapidgator.net/file/2f840309a9b0202d6c782c8615629977/ELSA_v6.0_AUDI_03.2017_Multilingual.part4.rar
https://rapidgator.net/file/c75ce70719a463011e97d6153b4c56ec/ELSA_v6.0_AUDI_03.2017_Multilingual.part5.rar
https://rapidgator.net/file/83c3edd369cd26f429a0bf84d8beef99/ELSA_v6.0_AUDI_03.2017_Multilingual.part6.rar
https://rapidgator.net/file/981e6332ef88e72393f7199d3c10d491/ELSA_v6.0_AUDI_03.2017_Multilingual.part7.rar
https://rapidgator.net/file/ee325e85c2d7e0b2c0f5974f8b3eee8f/ELSA_v6.0_AUDI_03.2017_Multilingual.part8.rar
https://nitro.download/view/318BD5A47514111/ELSA_v6.0_AUDI_03.2017_Multilingual.part1.rar
https://nitro.download/view/20DA32596ED0DA8/ELSA_v6.0_AUDI_03.2017_Multilingual.part2.rar
https://nitro.download/view/C6522B84D3E17F3/ELSA_v6.0_AUDI_03.2017_Multilingual.part3.rar
https://nitro.download/view/31F708BD2A45423/ELSA_v6.0_AUDI_03.2017_Multilingual.part4.rar
https://nitro.download/view/97FCDC4035B2EFF/ELSA_v6.0_AUDI_03.2017_Multilingual.part5.rar
https://nitro.download/view/B43A82180957FFB/ELSA_v6.0_AUDI_03.2017_Multilingual.part6.rar
https://nitro.download/view/77DA0152B000641/ELSA_v6.0_AUDI_03.2017_Multilingual.part7.rar
https://nitro.download/view/9FAF01BD4616D67/ELSA_v6.0_AUDI_03.2017_Multilingual.part8.rar
https://uploadgig.com/file/download/9a4d993b8b4942E5/ELSA_v6.0_AUDI_03.2017_Multilingual.part1.rar
https://uploadgig.com/file/download/a7a999AE7b10bF26/ELSA_v6.0_AUDI_03.2017_Multilingual.part2.rar
https://uploadgig.com/file/download/aA9b596bbe497666/ELSA_v6.0_AUDI_03.2017_Multilingual.part3.rar
https://uploadgig.com/file/download/Af7215d795F2fee9/ELSA_v6.0_AUDI_03.2017_Multilingual.part4.rar
https://uploadgig.com/file/download/6E1978128a4c4c6c/ELSA_v6.0_AUDI_03.2017_Multilingual.part5.rar
https://uploadgig.com/file/download/e52550A7cB75cC9c/ELSA_v6.0_AUDI_03.2017_Multilingual.part6.rar
https://uploadgig.com/file/download/FB217b371281D12d/ELSA_v6.0_AUDI_03.2017_Multilingual.part7.rar
https://uploadgig.com/file/download/8f7F23f7f7ebc1cA/ELSA_v6.0_AUDI_03.2017_Multilingual.part8.rar