BMW ETK (01.2020) Multilingual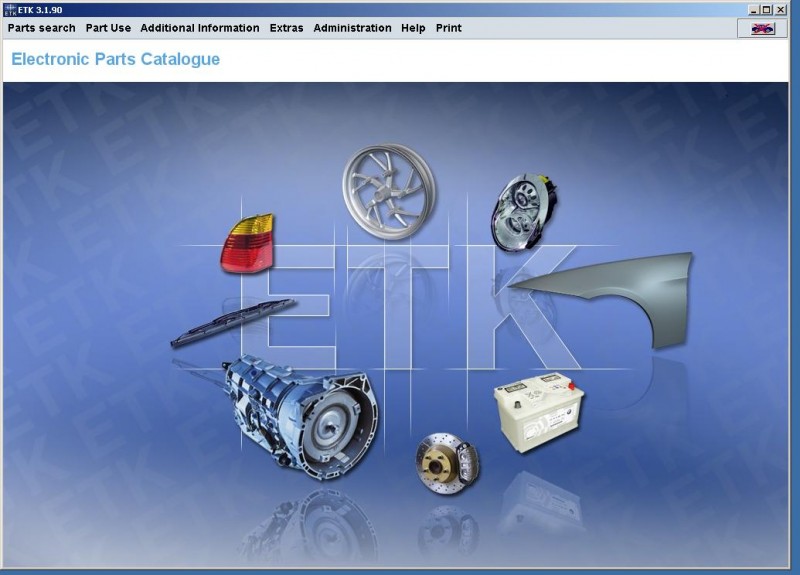 BMW ETK (01.2020) Multilingual | 6.6 GB | Language: Multilanguage
Catalog of spare parts from the manufacturer. The search is carried out both by the spare part number, and by the car model or by the VIN of the car.
Installation :
1. The computer name must be in Latin.
2. Application policy regarding "correct" ports has changed.
It is better to leave those that the installation program itself will offer.
3. Do not fill in server addresses.
4. The RR directory is set if you enter the password oxford12. The password for ZINORO is shenyang15
5. Market choose Eastern Europe.
6. Firm and business partner ID 1 and 1 (in both fields).
Release Year/Date : 01/2020
Version : 3.2.20
Developer : BMW Automotive
Developer Website : BMW Automotive
Interface language : Multilingual (Russian is present)
Tabletka : not required
DOWNLOAD LINKS:
https://k2s.cc/file/776bac748eccb
https://k2s.cc/file/9838b27cf32e2
https://k2s.cc/file/6fbe10f063b18
https://k2s.cc/file/64b5c22a12786
https://k2s.cc/file/29ad9ef1d5502
https://k2s.cc/file/b046f1a2a55d1
https://k2s.cc/file/6d50982c4b0fc
https://rapidgator.net/file/69c3638e9f3003b9e52b6a357c4ab149/BMW_ETK_01.2020_Multilingual.part1.rar
https://rapidgator.net/file/da64c5c74378260055f5b9216c9e2488/BMW_ETK_01.2020_Multilingual.part2.rar
https://rapidgator.net/file/cc849d2f485c6229a4bea70429557c67/BMW_ETK_01.2020_Multilingual.part3.rar
https://rapidgator.net/file/dd17257db2cfea1e2fc7c7e20e32b12b/BMW_ETK_01.2020_Multilingual.part4.rar
https://rapidgator.net/file/0badfa11cafebc655260b312f6f711a9/BMW_ETK_01.2020_Multilingual.part5.rar
https://rapidgator.net/file/1487a1b47cc41f4ecc2f246fd2729a1c/BMW_ETK_01.2020_Multilingual.part6.rar
https://rapidgator.net/file/24a048f2b90be4da01fa8f3d283e4b4d/BMW_ETK_01.2020_Multilingual.part7.rar
https://nitro.download/view/E4656C0D7EBA9DE/BMW_ETK_01.2020_Multilingual.part1.rar
https://nitro.download/view/CE884F214CC3511/BMW_ETK_01.2020_Multilingual.part2.rar
https://nitro.download/view/4D30ADA2F38E25B/BMW_ETK_01.2020_Multilingual.part3.rar
https://nitro.download/view/4FE4A265CB1D876/BMW_ETK_01.2020_Multilingual.part4.rar
https://nitro.download/view/BEE0A38A70688F2/BMW_ETK_01.2020_Multilingual.part5.rar
https://nitro.download/view/D52F2563DD7E228/BMW_ETK_01.2020_Multilingual.part6.rar
https://nitro.download/view/245996630C0DC7F/BMW_ETK_01.2020_Multilingual.part7.rar
https://uploadgig.com/file/download/a626a5Ed708a2A98/BMW_ETK_01.2020_Multilingual.part1.rar
https://uploadgig.com/file/download/94710765461c0842/BMW_ETK_01.2020_Multilingual.part2.rar
https://uploadgig.com/file/download/76bA11dcB98F7d94/BMW_ETK_01.2020_Multilingual.part3.rar
https://uploadgig.com/file/download/08ab410dfCb7d063/BMW_ETK_01.2020_Multilingual.part4.rar
https://uploadgig.com/file/download/edB035802f06155f/BMW_ETK_01.2020_Multilingual.part5.rar
https://uploadgig.com/file/download/f9f7a850068D1847/BMW_ETK_01.2020_Multilingual.part6.rar
https://uploadgig.com/file/download/22EbeF169a865de1/BMW_ETK_01.2020_Multilingual.part7.rar